My kitchen renovation has somewhat been in progress (on and off) for about five years now – a few months after we moved in we painted everything white and put it some semi-permanent updates, but we knew that we had a lot more work to do.

That work included ripping up the linoleum and tiling the floor, updating the ceiling fan, replacing the windows, refinishing the original wood doors to the basement and backyard, and buying new appliances before it finally feels done!
A few months after we moved in, we made a few basic updates to clean up the kitchen while we worked on other projects – like painting all the walls with high-hiding white primer and ceilings a flat white, painting the cabinets and cabinet hardware, re-tiling the backsplash and floating a plywood veneer floor over the linoleum.
We also painted the backdoor white (it had serious damage and gouges and needed to be refinished – but this was a "quick wins" refresh) and built an industrial shelving unit for storage.
At this point, everything at least felt clean and fresh – there was a new coat of paint on just about every surface – but we weren't prepared to rip up the floors without a plan, which is why we put in the plywood plank floor to cover up the linoleum temporarily until we figured out our long-term solution.
Years later (5 years later!) we finally worked up the nerve to rip up the floating veneer floors, pull up the linoleum, and prepare to refinish the original wood floors we thought were lurking underneath. But when we pulled the tiles up we realized there wasn't just one layer of subfloor – but at least two.

Unsure of what was underneath the second layer of subfloor, we decided to tile instead of crossing our fingers and spending another day pulling up flooring (although we'd been considering tile in the kitchen anyway for easy care). We decided on a matte hexagon mosaic tile like I used in our vestibule entryway to match and because it could handle the curve in our floor from the kitchen to the mudroom.

I loved our update to the cabinets with white paint and black hardware but my initial paint job wasn't holding up – I'd used latex on the cabinets and painted the knobs and pulls – this time around I repainted the cabinets with enamel and replaced with black hardware (instead of painting over hardware).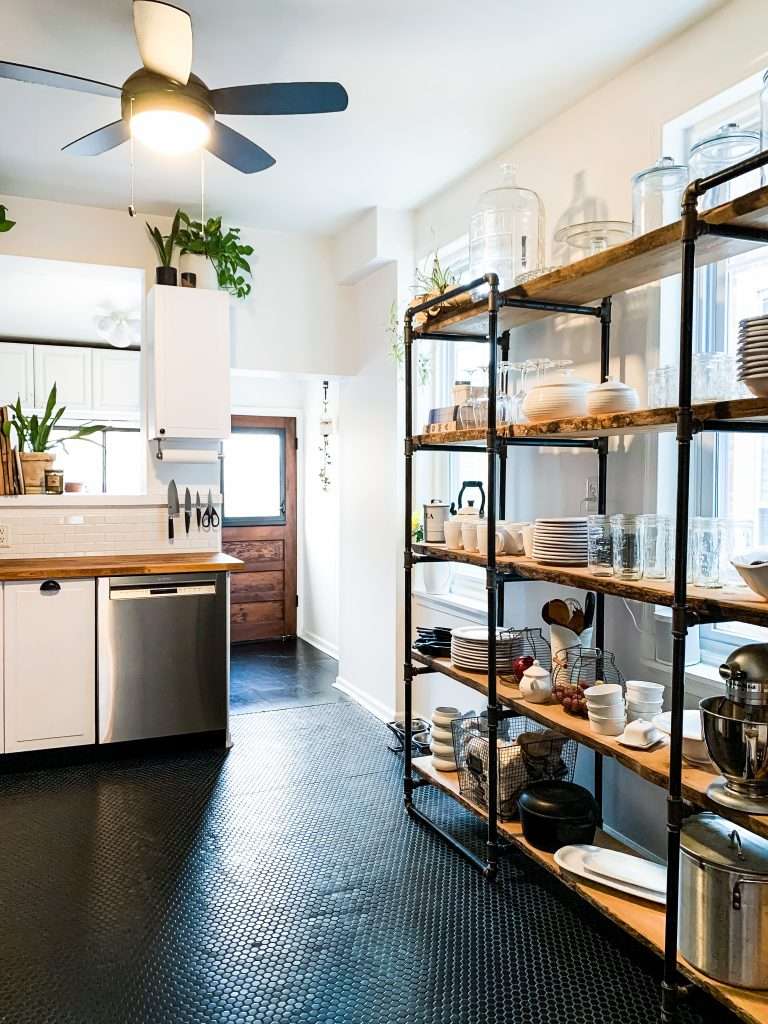 I also went back and refinished the jalousie window door to the backyard – there were plenty of old layers of paint and polyurethane that needed to be sanded off, and scratches and gauges in the door that had to be repaired and sanded down. It took a few summer weekends to get everything off! I used a wood stain in honey to get close to the color of the countertops and basement door and sealed the door with spar urethane.

While I was stripping and refinishing the door, I also removed and cleaned out the jalousie windows and painted the metal with Rust-Oleum's All Surface Spray Paint in oil rubbed bronze (my favorite spray paint for just about everything).
I also recently reorganized my spice rack to make better use of the space – I was able to find some glass bottles with cork stoppers that fit pretty perfectly in the shelves – each shelf fits 15 jars which leaves me with room for 60 jars.

My new labelmaker has definitely been the hero of reorganizing the kitchen – I used it for labeling my spices as well as labeling all of the glass jars we store grains, noodles, cereals, and snacks inside the cabinets as well. I used to have a traditional DYMO embossing labeler but it always seemed to miss the spacing between letters.
So – the real question. Is it done?

The answer is maybe – if you count the mudroom as part of the kitchen, then no. There's still plenty of work to do (like a powder room hopefully)! But the kitchen is about as close to complete I think any room in my house ever gets.
---
Source List
Paint + Fixtures
Walls: Valspar Bistro White 7006-4 in eggshell
Trim: Valspar Ultra White 7006-24 in semi-gloss
Ceilings: BEHR® Ultra Pure White ceiling flat interior paint
Cabinets: BEHR® urethane alkyd satin enamel
Ceiling fan: Monte Carlo Discus II 44″ ceiling fan
Back door stain: MinWax Wood Finish Interior Penetrating Stain in honey
Back door sealant: MinWax Helmsman Spar Urethene in clear satin
Back door metal paint: Rust-Oleum Universal All Surface Spray Paint in oil rubbed bronze metallic
Tile
Backsplash: Snow White glossy 2×4 subway tile
Floor: Merola metro hex matte black porcelain mosaic tile
Appliances
Refrigerator: Samsung counter-depth french door refrigerator
Range: Samsung freestanding gas range
Dishwasher: Bosch built-in full console dishwasher
Microwave: Samsung over-the-range microwave
Toaster: Cuisinart bakery artisan bread long toaster
---
Shop the Room