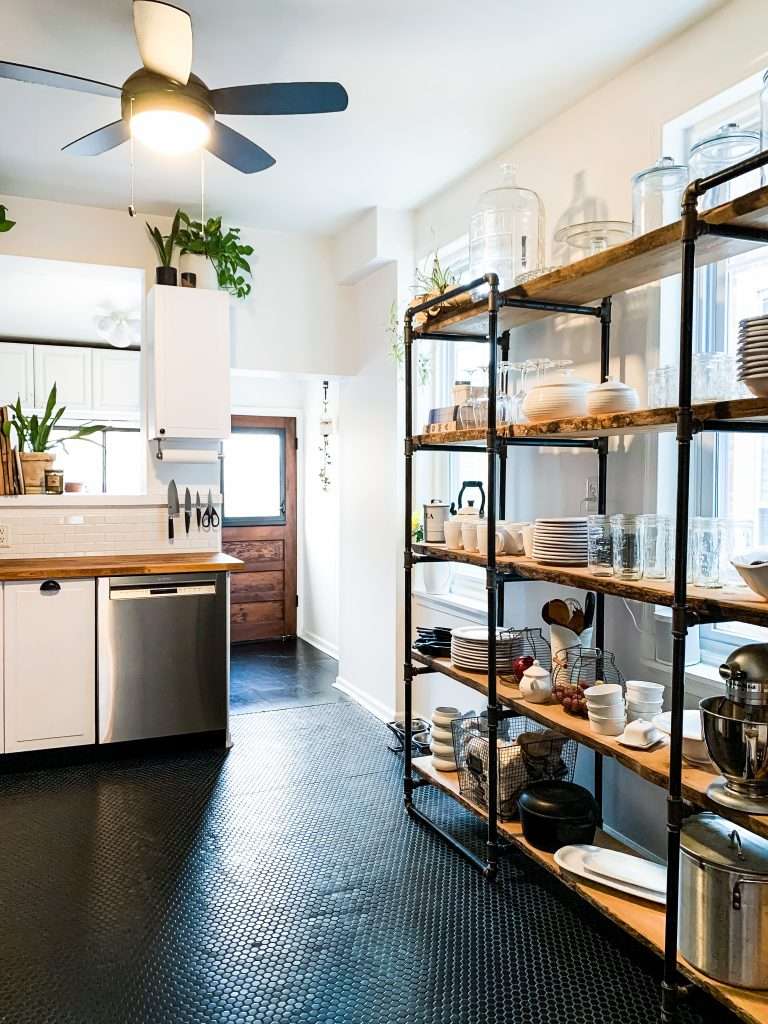 The last project in our kitchen rehab was one that I'd planned from the start – a large industrial pipe shelving unit with live edge wood shelves for open display of dishes, dried goods, and everything else that needed a home in our kitchen.
Read more to learn how to build your own DIY freestanding industrial gas pipe shelving unit!
Materials for a Freestanding Industrial Pipe Shelving Unit:
I'll be including the exact measurements and materials I used to build my gas pipe shelf – make sure you are certain that this will fit in your home, or adjust the measurements for the size you need.
8 x 3/4″ diameter 24″ Black Iron Gas Pipe
32 x 3/4″ diameter 16″ Black Iron Gas Pipe
20 x 3/4″ diameter 15″ Black Iron Gas Pipe
16 x 3/4″ diameter 90 degree threaded elbows
16 x 3/4″ diameter 1″ threaded nipples
40 x 3/4″ diameter threaded T connectors
Pipe wrench
Acetone
5 x 8′ by 1′ Wood for Shelves
Stick-on felt pads
I'd found tons of inspiration for my industrial pipe shelving unit and was just waiting until the rest of the kitchen to come together. I had plenty of designs already made up, and had calculated costs every which way based on everything from the gas pipe diameter to connector hardware.
Initially I was planning on building something more like the gas pipe shelves I have in our living room, but we stumbled upon a crazy deal for some really beautiful dredged pine boards that I couldn't bear to drill through.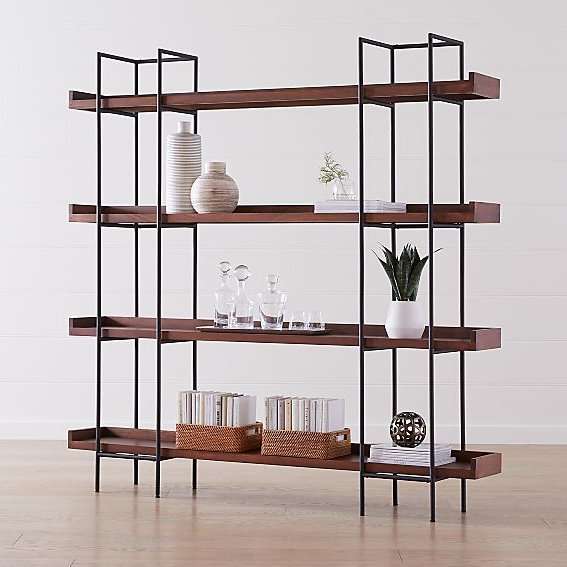 Our main requirement was that we wanted the shelf to be free-standing – we didn't want to drill anything into our walls, floors, or ceilings.
I was really inspired by this modern bookshelf from Crate & Barrel where the shelves were floating on top of the frame, so I went back to the drawing board and drafted up a way to connect pipe and flange to create a similar frame.
It took two weekends of work, but we built this 8'x7′ industrial pipe shelf for under $450.
*One word of caution against the design method we chose – because all of the pipes are interconnected, there will be at least one pipe in each "square" section that needed to be screwed into one end, then slightly unscrewed in order to screw in to the opposite side simultaneously.

*It is much easier to have pipes screw into the wall, floor, or ceiling than it is to have them all screw into each other. However, we were prepared for it, and spent A LOT of time counting threads to make sure that all of the pipes were even and secured.
How to Build a Freestanding Industrial Pipe Shelving Unit
Cut your wood to size
We found our boards at one of my favorite hidden gems in Philadelphia – Provenance Architecturals.
The 2 inch thick, 10'x1′ boards were reclaimed from dredged pine, and were only $15 a board – such a deal that we bought twice as much as we needed to keep the extra for other projects!
After bringing them home and cutting them down to 8′, we sanded the tops and bottoms and oiled them with mineral oil. Originally I had planned on drilling through the boards, similarly to how I created my gas pipe bookshelf, but the wood was so straight and beautiful that we didn't want to drill into them.
So I redesigned our shelves again, so that they would lay across the pipes instead of having the pipes drilled through them, and still be free-standing, which was basically two separate towers of pipes.
Get your gas pipe cut to size and threaded
I'd put a lot of work into figuring out how to get all of the gas pipes we'd need with the least amount of cuts and waste of materials (8 x 10′ of pipe and 1 x 4′ of pipe), so it was easy for me to just leave my diagram and tell the guys at Home Depot to take their time, and just call me when they were done. I'd definitely suggest doing that when asking for a lot of custom work as opposed to waiting around and looking over their shoulder the whole time.
All in all, the pipes and hardware cost approximately $350.
Degrease the gas pipe
After we got home I spent the entire night degreasing the pipes and removing any printed letters/numbers with acetone before organizing them by size.
Assemble the frame
Because all of the pipes are interconnected, there will be at least one pipe in each "ladder" section that needs to be screwed into one end, then slightly unscrewed in order to screw in to the opposite side simultaneously.
To do this, assemble one side of each "ladder" and use your pipe wrench to screw the "rungs" in as tight as you possibly can, then line up the other side of the "ladder" with the "rung" and "unscrew" the "rung". When you "unscrew" the "rung" from the tightened end it will screw into the other end.
Take your time and count threads to make sure you have an even amount of threads in each connector. You'll have to do this for every "ladder".
Add felt pads to the feet
This shelving unit is going to be heavy. Make sure you add some stick-on felt feet under the elbow connectors to prevent it from scratching your floors!
Add your shelves
Once you've finished assembling you should have two identical frames. Move these frames into their new home and then simply set your shelves right on top!
Despite the time spent counting threads, I am glad we chose the design method we did because it will make moving easy. Also, if we ever want to use the boards for anything else we didn't have to drill holes into them, and we didn't have to drill holes into the plaster walls or into our new floors.
A user on Reddit posted their own project using my blog post for inspiration – they have some really great pictures of their process, and assembled the pipe & flange frame in a different order than I did if you're having trouble with assembly and want to try a different way!
If you want the look but aren't ready to build your own, check out some of my favorite industrial bookcases and bookshelves instead!
---
Get the Look