Many kitchens have an empty space or a gap between the tops of the kitchen cabinets and the ceiling – leaving it empty can sometimes look unfinished, but using it for haphazard storage can quickly feel cluttered.
There are plenty of ways to decorate on top of your kitchen cabinets – not only can you create additional, functional storage space but styling decor above your cabinets can also draw the eye up to the ceilings and make your kitchen feel taller.
Find some of my favorite ideas for above kitchen cabinet decor below!
Use woven baskets to add texture
You can decorate above your kitchen cabinets with woven baskets in all shapes and sizes. Use baskets above your kitchen cabinets to store extra dishes, cookbooks, or utensils or simply fill the space with baskets to draw the eye up to the ceiling, making your kitchen appear taller.
Woven baskets on top of your cabinets can add some warmth and texture, or add a splash of color or pattern with eye-catching baskets!
---
Shop woven baskets
Add greenery above kitchen cabinets with low-light or fake plants
Growing plants above kitchen cabinets adds greenery and brings a breath of fresh air – just make sure you consider the types of light you have in your kitchen and purchase plants that will be happy with that light! Unless you have skylights or a very bright kitchen, you'll most likely want low light plants.
Fake plants are also a great option for adding greenery on top of your kitchen cabinets if you don't have enough light in your kitchen.
---
Shop low light plants
Extend your kitchen cabinets to the ceiling
Sometimes the best way to decorate above your cabinets, is by adding more cabinets! Extend your kitchen cabinets with additional storage or even by adding faux fronts like this DIY project.
Use faux brick for an industrial look
Unless you actually have existing brick walls, you might not be able to expose brick like this kitchen renovation to add some texture to the space above your kitchen cabinets. But you can fake it with faux brick wallpaper – since it'll be near the ceilings a good faux brick will still look good!
---
Shop faux brick
Store cookbooks above your kitchen cabinets
The space above your kitchen cabinets is a perfect spot for storing your favorite cookbooks. Decorating with your cookbook collection is a great way to utilize the extra space above your kitchen cabinets while keeping your cookbooks within reach!
---
Shop cookbooks
Add a vintage or handpainted sign for above cabinet decor
To draw the eye up to the tops of your cabinets without storing anything heavy, decorate with a wall-mounted sign.
---
Shop kitchen signs
Display your favorite collection on top of your cabinets
Whether you collect plates, vases, ceramic figurines, or have a clean, curated group of jars – storing them above your cabinets is a great way to decorate the space above your kitchen cabinets while showing them off!
Make a statement with 3d letters
3d letters add another way to make a statement without a wall-mounted sign. Use metal letters, marquee letters, or other 3d designs to spell something out!
---
Shop 3d letters
Create a gallery of artwork in your kitchen
Group a collection of paintings, drawings, or other artwork above your cabinets and create a kitchen gallery wall. A cluster of art is a great way to fill the space above kitchen cabinets, especially if you have a slanted ceiling or other oddly-shaped space.
Mix it up for eclectic above cabinet decor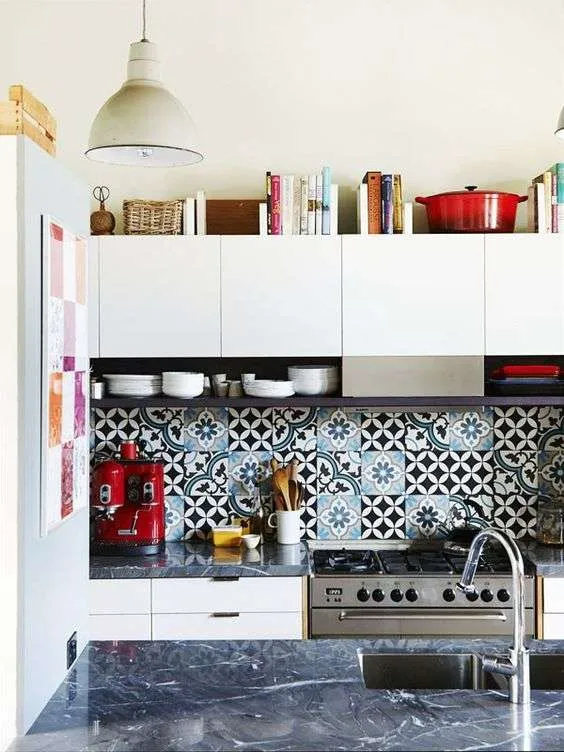 Forget rules – instead of drawing inspiration from one of the ideas above, combine them to make something that's unique to your home! Pair some artwork with some vintage vases, organize your favorite cookbooks next to baskets used for storage, or combine some 3d letters with some vintage collectibles.